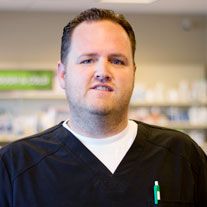 Brett
Brett is originally from Hemet, California. After graduating high school, he came to Utah and attended Utah State University. After one year at USU, Brett served an LDS mission to Argentina. When he returned, he met his wife Virginia and moved to Salt Lake City to finish his pre-pharmacy requirements at the University of Utah. They then moved to Winchester, Virginia, where Brett earned his Doctor of Pharmacy degree from Shenandoah University.
After completing his degree in May 2007, Brett and his family moved back to Utah and settled in South Weber. He worked as the manager of a local retail chain pharmacy, but felt that he could provide more personalized service to his patients by opening an independent pharmacy.
Brett and Virginia have three kids. When he's not at the pharmacy, he likes golfing, snowboarding, fishing, camping and wake boarding.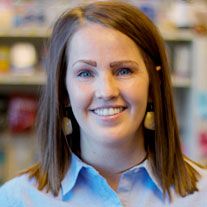 Libby
Libby is VP of Marketing and Merchandizing for Tibbitts Family Pharmacy and has been a Pharmacy Technician for 10 years. Her favorite part of working for the pharmacy is getting to know the patients on a personal level. She also enjoys the small town feel of our independent pharmacy.
Libby is currently enrolled at Weber State. In her spare time, she loves running and spending time with her husband and kids.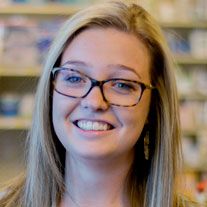 Taylor
Taylor started at Tibbitts Pharmacy in the fall of 2016. She has been a pharmacy technician since 2014 when she completed the DATC tech course at the same time she was completing her senior year at Davis High School. She enjoys helping people live a healthier life through personal pharmacy care.
She love to ride dirt bikes in the summer, ride snowboards in the winter and is studying Accounting at Weber State and hopes to work for a publicly traded company after college.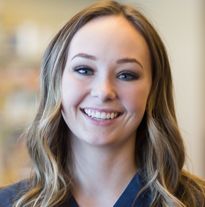 Logan
Logan is from Pleasant View, is attending Weber State University where she is studying Microbiology in hopes of becoming a Pharmacist and has been with Tibbitts since the fall of 2016. She enjoys helping people live better lives and loves being in the healthcare field without having to deal with any blood.
Logan played tennis at Weber High and loves to be outdoors skiing, snowmobiling or four wheeling.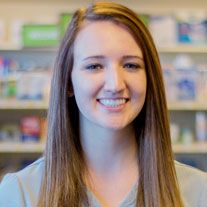 Jerica
Jerica has been a Pharmacy Technician for 2 years. She is new to Tibbitts Family Pharmacy but she is excited to be a part of our team! One thing that Jerica loves about working with our independent Pharmacy is the ability to learn new things
Jerica enjoys camping and hunting and spending time with her family in the outdoors.